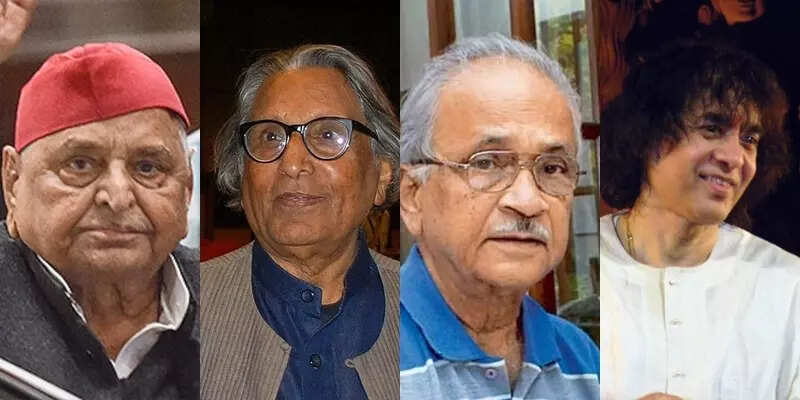 NEW DELHI: SP ex-chief Mulayam Singh Yadav, iconic architect Balkrishna Doshi and pioneer of ORS Dilip Mahalanabis have been posthumously awarded Padma Vibhushan, India's second-highest civilian award. Other recipients of the award are tabla maestro
Zakir Hussain
, mathematician Srinivas Vardhan and former Union minister and Karnataka CM S M Krishna.
Padma Bhushan, the third-highest civilian award, has been conferred on industrialist Kumar Mangalam Birla, philanthropist and Infosys Foundation chairperson Sudha Murthy.
Playback singers Vani Jairam and Suman Kalyanpur, Kannada novelist and screenwriter S L Bhyrappa, Pune-based academic Deepak Dhar, Telangana-based erudite Vedic scholar Swami Chinna Jeeyar, spiritual leader Kamlesh D Patel and former Pro-vice-chancellor of JNU Kapil Kapoor are also chosen for Padma Bhushan.
The honour for Jairam and Kalyanpur will be seen as belated recognition for the talented duo who got dwarfed by the towering genius of late Lata Mangheshkar and Asha Bhonsle.
On the Padma Shri list is late business magnate and ace investor Rakesh Jhunjhunwala, actor Raveena Tandon and RRR music director M M Keeravaani. Former founder chairman of Rasna group Areez Khambatta (posthumous), mathematician of Super-30 programme fame Anand Kumar and ex-BJP Manipur state unit president and ex-Union minister Thounaojam Chaoba Singh are the other interesting names in the list.
The honour for Padma Vibhushan for Mulayam Singh Yadav, a formidable foe of BJP who also got famously along with the PM, is part of the pattern where the Modi government has reached across the aisle to confer civilian honours on the saffron party's rivals. Earlier, Sharad Pawar and former Assam CM Tarun Gogoi were awarded Padma Vibhushan and Padma Bhushan respectively.
Like in the previous years since 2014 when the Modi government took over, the list reflects a conscious effort to broaden the pool by extending it to cover those working in villages, among tribals and for the promotion of folk and traditional arts and crafts.
Of the 106 Padma awards announced on the Republic Day eve, six are Padma Vibhushan, nine are Padma Bhushan and 91 are Padma Shri. Nine of the awardees are women while two persons are from the category of foreigners/NRI/PIO/OCI. Seven people have been honoured posthumously.
The list, like the past few years, includes 26 unsung heroes who have dedicated their lives to helping the weak and deprived sections. On the top is Dilip Mahalanabis, who pioneered the wide use of ORS, estimated to have saved over five crore lives globally. Among the 25 other unsung heroes in Padma Shri list, 79-year-old Kakinada-based social worker Sankurathri Chandra Sekhar has dedicated his life to providing free medical and education services to the needy.