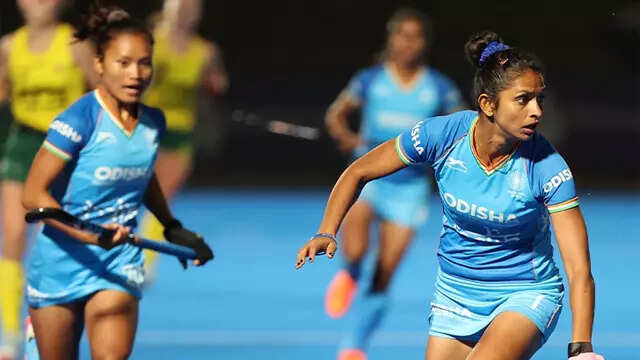 NEW DELHI: In a thrilling showdown on Thursday, the Indian women's hockey team showcased their mettle but succumbed to a narrow 2-3 defeat against Australia A. Salima Tete and Sangita Kumari found the net for India, while Alice Arnott and Ruby Harris struck for the hosts.
India started the game with dominance, earning a penalty corner in the 10th minute of the first quarter. However, they were unable to capitalise on the opportunity. The hosts, in turn, won a couple of penalty corners, but India's resolute defence stood firm, denying them the lead. Consequently, the first quarter concluded in a goalless stalemate.
The second quarter witnessed India's focus on maintaining possession, but Australia A seized the initiative as Alice Arnott struck a field goal in the 18th minute, breaking the deadlock. Moments later, Ruby Harris doubled the hosts' advantage by capitalising on a free opportunity at the far post.
Trailing by two goals at halftime, India displayed resilience and launched aggressive attacks. However, they were unable to convert their chances, and Australia A maintained their 2-0 lead heading into the break.
The hosts extended their lead early in the third quarter when Ruby Harris notched her second goal of the match in the 35th minute, further denting India's hopes. Nevertheless, India quickly responded as Salima Tete produced a moment of brilliance, firing a remarkable shot from just inside the D to register India's first goal.
Determined to stage a comeback, India unleashed a barrage of attacks in the fourth quarter and earned two penalty corners. Unfortunately, they failed to convert these opportunities. Nonetheless, their relentless pressure finally paid off when Sangita Kumari netted a crucial goal in the dying moments of the match, rekindling India's hopes.
Despite India's valiant efforts, Australia A's defence held firm, denying the visitors any further goals. As the final whistle blew, Australia A emerged victorious with a narrow 3-2 margin.
This encounter marked the concluding stages of the Indian women's hockey team's tour Down Under, serving as vital preparation for the upcoming Asian Games in September. They are set to face Australia A once again on Saturday.
Earlier in the tour, India endured a 0-2 defeat in a three-match series against Australia, losing by 2-4 and 2-3 in the first two games. The third match ended in a 1-1 draw, with India showcasing their resilience by equalising after falling behind.
(With inputs from PTI)